Things were flowing a little too smoothly around the House in Borderland, so the wife and I have decided to stir things up a bit by putting in a bathroom. Granted we already have a bathroom--two of them, really--but we hate them both with an emotion bordering on the next county over from passion. They are the two rooms in the house that exemplify the levels of quarter-assedness employed by one or more
previous asshole owners
of our house in "sprucing things up" in order to make the place more palatable to buyers. (I like to imagine them watching a weekend marathon of Designed to Sell on HGTV, only to learn that their DVR left off the last ten minutes of every show--yet, they decided to barrel through the projects anyway.)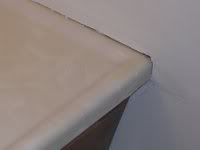 For instance, some previous owner, either through intent or neglect, purchased a double vanity sink top that doesn't actually fit into the dimensions of the hall bathroom. Did this stop them? Nope. They just chiseled a slot into the wall, inserted one end of the vanity into it, drywalled around it and didn't bother to seal it afterward, leaving a slight crack at the seam. (This is the same bathroom, mind you, that the previous owners hired a team of blind rhesus monkeys to slap white paint on in seemingly random blotches.)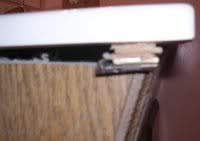 The master bathroom was even worse. Beyond the shade of Salmon the patched, spackled but not-entirely-sanded walls were adorned with, the previous owners saw installed a single vanity set up using as few 90 degree angles as they could get away with. Even though the floor is level, the previous owners somehow thought their vanity wasn't, so they shored up the front of it by putting shims between the sinktop and the cabinet beneath. As you can see from the picture of the full sink below, this didn't actually help at all.
The toilet has had a number of problems with flushing and running water forever afterward. Most of this could be fixed by gutting it and installing new toilet innards, but we don't really like the color of it. As for the fiberglass tub/shower unit, it wasn't in terrible shape, but we hated it all the same because it was too small for anyone but a five year old to comfortably have a soak in and it was the same color as the toilet.
We decided to tackle this bathroom first, knowing full well that we'd pretty much have to rip the whole thing out, tub, terlet, fixtures, most-likely drywall, and all. Nevermind that neither of us has ever done this sort of thing before, that's why they have the DIY network. Plus, the wife possesses more home-improvement skills than the average human and I have power tools. Where could we go wrong?
(TO BE CONTINUED...)